Day Seven: Friday, May 26, 2017
Alright, this was the final day of the challenge! It was certainly fun getting to use my Moto G for the whole week in lieu of my iPhone 6 Plus, since I hadn't regularly used it since July 2016.
It was an interesting day, to say the least. The weekly LineageOS nightly update notification came to the phone, and I decided to update that for the sake of getting bugs squashed, the latest security patch, etc. The fun part of the update was when the phone rebooted to TWRP after rebooting, and I had to locate the zip file, since for some reason, the update didn't automatically start. Once I found the downloaded update, I went onto extract it for installation, but apparently it failed on first try because of Zip Verification being enabled. I don't know how Zip Verification could cause an install to fail, but disabling it on the second install attempt fixed the error and the update extracted successfully.
Was the downloaded zip file slightly corrupt? After updating the ROM, I had noticed several things were reset. My weather/clock/stats widget was missing, and my weather app temperature notification was missing as well. Additionally, Swype was disabled from my keyboard selection and I had to re-enable that as well. Never have I had to reconfigure apps and settings like that due to an OS update. Other than that, the update seemed flawless and everything runs fine.
Anyways, it was definitely a fun week! This challenge has most certainly reignited my liking of the Android operating system, and I will continue to cherish the use of Android through my Nexus 7 2013 tablet, even though I will have gone back to using the iPhone for my main portable device.
I did have fun getting to see this for a week: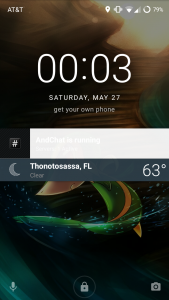 Although it is time I return back to seeing this: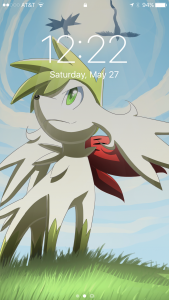 And so this concludes my one-week Android Challenge by going without my iPhone for a full week! I call this challenge a success.
End-of-day battery percentage: 79%.